LOUISVILLE, KY (April 29, 2013) – Charah®, Inc., a leading provider of coal combustion product management and power plant support services for the coal-fired electric utility industry, has received a prestigious award for an outstanding record of employee safety from the North Carolina Department of Labor (NCDOL). This is the second year in a row that Charah has been recognized by NCDOL for its safety record.
Charah's landfill construction, operations and management project, located at Progress Energy Carolinas' Roxboro Power Plant in Roxboro, North Carolina, received a Certificate of Safety Achievement on April 16, 2013. The company's Gold-level Certificate of Safety Achievement, the state's highest safety award, was presented by North Carolina Commissioner of Labor Cherie Berry, in recognition of Charah's outstanding safety and health efforts and the promotion of safe working conditions in 2012.
This annual awards program, run by the NCDOL, recognizes companies that strive to excel in safety. Each year the state awards more than 2,000 certificates to companies around the state. In order to qualify for the Gold award, each company must have ten or more full time employees, must have had no lost time accidents and also must have achieved incident rates 50% below their SIC code.
Marvin Bradsher, Justin Mize, Matthew Morris, Rob Long and Keith Jackson accepted the award on behalf of Charah. A presentation to Roxboro site personnel was held on April 22, 2013 during Charah's daily morning safety briefing.
"We are honored to receive this award from the North Carolina Department of Labor in recognition of our commitment to safety," said Charles Price, President and CEO of Charah. "Safety is our foremost priority and we are always exploring new ways to improve our worksites and our employees' attention to safety. The Roxboro site is also well on its way to earning the "Million Man Hour" award with 339,371 hours to date since operations began in 2009 with no lost time injuries. Congratulations to all the Roxboro site personnel on achieving this milestone for two consecutive years."
About Charah, Inc.
Founded in 1987, Charah®, Inc. is one of the largest providers of coal combustion product management and power plant support services for the coal-fired electric utility industry. Based in Louisville, KY, Charah assists utilities with all aspects of managing and recycling ash byproducts generated from the combustion of coal in the production of electricity. Services include landfill construction, operations, management & closure; fly ash, bottom ash, Gypsum & FGD byproduct management; coal combustion product (CCP) sales & marketing; innovative products for the agricultural market; power plant support services including limestone supply, gypsum operations & wastewater treatment; ash pond conversion & closure; dry fly ash conversion; ash pond management; and Integrated Gasification Combine Cycle (IGCC) slag beneficiation and other innovative solutions. For more information, please visit www.charah.com.
---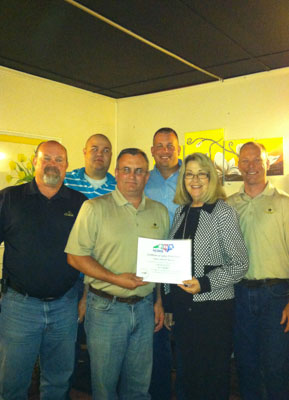 North Carolina Commissioner of Labor Cherie Berry presents Charah's Gold-level Certificates of Achievement to Charah employees (left to right): Keith Jackson, Charah Safety Specialist; Matthew Morris, Roxboro Equipment Operator/Administrator; Marvin Bradsher, Charah Field Safety Technician; Rob Long, Roxboro Assistant Site Manager; and Justin Mize, Roxboro Site Manager.
---