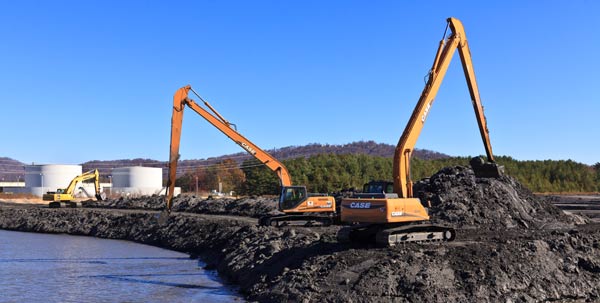 Charah has extensive experience in ash pond excavation, management and closure. We take pride in our ability to customize each ash pond job to suit the specific needs of the utility.
Proven experience in pond excavation
Charah has proven experience in CCR pond management for power plants that use a wet slurry method for ash handling. Working in ash ponds or managing the slurry ash can present unusual operating challenges. Charah has developed an experience based, including many pond projects with various operating challenges that allows us to address even the most difficult access requirements. We have a proven track record in performing ash pond projects, while supporting ongoing operating conditions at the power plant without interruption related to ash management.
Whether the needs are for excavation of settled ash from an active pond or maintaining daily removal of current production ash, Charah has the experience to complete the operations while keeping the pond operating in compliance and ready to receive ash slurry.
Custom ash pond closure
Charah has extensive experience cleaning ash ponds. We can meet the utility's ash pond management needs by performing dredging, excavating or implementing a dry removal process.
Regulatory & technical solutions
To meet the challenges of future regulatory requirements on ash surface impoundments, Charah has solutions that offer utilities an economic alternative to traditional piecemeal approaches. As the industry moves forward in planning and implementing a strategy for complying with the comprehensive rule making procedures that affect coal fired power plants, Charah has innovative solutions to assist our clients. EPA rules include requirements that increase the costs of wet slurry ash handling and/or will likely result in closure of ash surface impoundments. New effluent guideline changes will also increase the costs involved in conventional wastewater treatment. Traditional approaches to dry handling of ash will leave utilities with segmented choices that are expensive and leave a large part of the "miscellaneous wastewaters" without an adequate solution. With traditional approaches, dealing with the non-ash wastewaters will require separate treatment systems that drive up the total compliance costs.

Charah offers an economical integrated solution for addressing future ash rules and effluent requirements without disruption to the power plants. Charah's integrated solution will allow plants to cease sluicing ash well before the EPA mandated deadline and provide treatment capabilities for meeting the upcoming effluent guidelines. With Charah you get one solution that addresses multiple compliance programs at an economical price, ash surface impoundment problems solved and non-ash wastewaters treated all in one simple process.