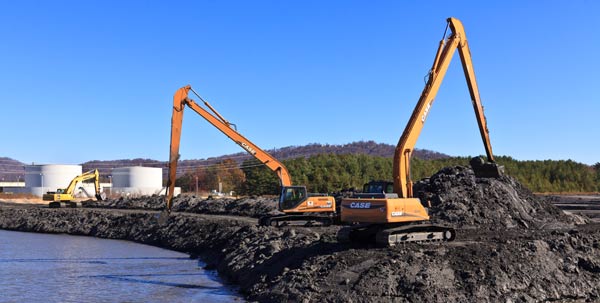 Charah has extensive experience in ash pond excavation, conversion and closure. We take pride in our ability to customize each ash pond job to suit the specific needs of the utility.
Proven experience in pond excavation
Charah has proven experience in CCP pond management for power plants that use a wet slurry method for ash handling. Working in ash ponds or managing the slurry ash can present unusual operating challenges. Charah has developed an experience based, including many pond projects with various operating challenges that allows us to address even the most difficult access requirements. We have a proven track record in performing ash pond projects, while supporting ongoing operating conditions at the power plant without interruption related to ash management.
Whether the needs are for excavation of settled ash from an active pond or maintaining daily removal of current production ash, Charah has the experience to complete the operations while keeping the pond operating in compliance and ready to receive ash slurry.
Custom ash pond conversion & closure
Charah has extensive experience cleaning ash ponds. We can meet the utility's ash pond management needs by performing dredging, excavating or implementing a dry removal process.