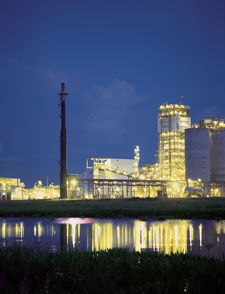 As a result of Charah's diverse and innovative approach to the utility's CCP management needs, Charah has become a leader in the field of Integrated Gasification Combined Cycle (IGCC) slag beneficiation and is able to address the recycling needs of the coal gasification power industry.
IGCC byproducts have unique physical and chemical characteristics and require specialized material handling systems to enhance their utilization potential. Charah's experience can add substantial value to a proposed or existing IGCC project. To avoid costly mistakes in your project development, engage Charah early in the design process to assure optimum utilization and management of your IGCC by-products.
Patented IGCC processing system
Charah's patented processing system can separate unburned fuel from the slag material and make it available for reuse by the host plant or other outlets. In addition, Charah will market the coarse and fine products that are left behind after fuel recovery is complete. Whether your IGCC project is in the development stage or operational, Charah can provide expertise and hands-on solutions to manage the byproducts. With the Charah experience, utilities will maximize utilization while minimizing costs associated with beneficial resuse.
Custom solutions
Charah understands that each project site is unique and requires an innovative technical and business approach. Our experienced team is prepared to work with your team to customize an operating plan specific to the needs and regulations of each individual site.