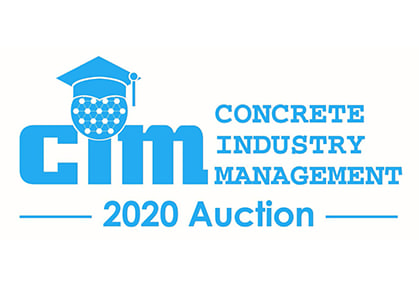 LOUISVILLE, KY (January 21, 2020) – Charah® Solutions, Inc. (NYSE: CHRA), a leading provider of environmental and maintenance services to the power generation industry, today announced that it is donating five loads or approximately 125 tons of ASTM C-618 Specification Fly Ash to the Concrete Industry Management (CIM) program's annual auction held during the World of Concrete tradeshow in Las Vegas, NV. Charah Solutions is pleased to participate in this important event which helps to support the future of the concrete industry and provide students the opportunity to enter a field that has an urgent need for professionals.
As part of this donation, Charah Solutions will provide fly ash from its national MultiSource® materials network, a unique distribution system of more than 40 nationwide locations, with international sourcing and distribution, which ensures that Charah Solutions can provide a continuous and reliable supply of supplementary cementitious materials, including quality fly ash and slag cement, for ready mix concrete producers and other customers throughout the US. Charah Solutions' source locations for this donation include all plants throughout the national MultiSource materials network, specifically Miami Fort Power Plant – North Bend, OH; Zimmer Power Plant – Moscow, OH; Limestone Power Plant – Jewett, TX; Cleco Rodemacher – Rodemacher, LA; Northeastern/Oolaga Power Plant – Tulsa, OK; Independence Power Plant – Newark, AR; White Bluff – Redfield, AR; Flint Creek – Gentry, AR; and SVM – Trona, CA, with transportation to be arranged and paid by the winning bidder.
The CIM program is a business intensive program that awards students with a four-year Bachelor of Science degree in Concrete Industry Management. It is a joint initiative of a growing number of universities including Middle Tennessee State University (MTSU), New Jersey Institute of Technology, Texas State University, and California State University, and supported by networks of local, state and regional concrete industry producers, suppliers and contractors. In addition to the four universities designated as schools with CIM programs, an Executive MBA in Concrete Industry Management is available at MTSU.
How To Participate In Auction
The annual CIM program auction will be held Wednesday, February 5, 2020 at the Las Vegas Convention Center. The silent auction will be held from 11:00 a.m. to 1:00 p.m. and the live auction begins at 1:00 p.m. PT (4:00pm ET) Visit CIM Charity Auction for details and to register to bid in real-time through the online portal for all of the items in the LIVE auction. For a list of all of the items to be auctioned, click here. Proceeds from the auction will benefit the CIM National Steering Committee and support current CIM programs as well as help fund scholarships. More details are available at www.concretedegree.com/auction.
World of Concrete is considered the most important annual international event of the year for concrete and masonry professionals, expected to attract nearly 60,000 registrants and 1,500 leading suppliers from February 4 – 7, 2020 at the Las Vegas Convention Center.
Click here to see a complete map of Charah Solutions' MultiSource materials network locations.
About Charah Solutions, Inc.
With 30 years of experience, Charah® Solutions, Inc. is a leading provider of environmental and maintenance services to the power generation industry, with operations in fossil fuel and nuclear power generation sites across the country. Based in Louisville, Kentucky, Charah Solutions assists utilities with all aspects of managing and recycling ash byproducts generated from the combustion of coal in the production of electricity as well as routine power plant maintenance and outage services for the fossil fuel and nuclear power generation industry. The Company also designs and implements solutions for ash pond management and closure, landfill construction, fly ash sales, and structural fill projects. Charah Solutions is the partner of choice for solving customers' most complex environmental challenges, and as an industry leader in quality, safety, and compliance, the Company is committed to reducing greenhouse gas emissions for a cleaner energy future. For more information, please visit www.charah.com.
MultiSource® is a registered trademark of Charah, LLC in the United States.
Forward-Looking Statements
This press release contains forward-looking statements within the meaning of Section 27A of the Securities Act of 1933 and Section 21E of the Securities Exchange Act of 1934. All statements, other than statements of historical facts, included in this press release that address activities, events or developments that the Company expects, believes or anticipates will or may occur in the future are forward-looking statements. These forward-looking statements are identified by their use of terms and phrases such as "may," "expect," "estimate," "project," "plan," "believe," "intend," "achievable," "anticipate," "will," "continue," "potential," "should," "could," and similar terms and phrases. These statements are based on certain assumptions made by the Company based on management's experience and perception of historical trends, current conditions, anticipated future developments and other factors believed to be appropriate. Such statements are subject to a number of assumptions, risks and uncertainties, many of which are beyond the control of the Company, which may cause actual results to differ materially from those implied or expressed by the forward-looking statements. Any forward-looking statement speaks only as of the date on which such statement is made and the Company undertakes no obligation to correct or update any forward-looking statement, whether as a result of new information, future events or otherwise, except as required by applicable law.
Investor Contact
Tony Semak
(502) 245-1353
ir@charah.com
Media Contact
Katrina Gallagher
(502) 472-6003
media@charah.com
Byproduct Sales Contact
Tiffany Duffy
Charah Solutions, Inc.
(412) 525-5159