Facility in Upstate New York Further Expands Charah Solutions' Byproduct Sales Footprint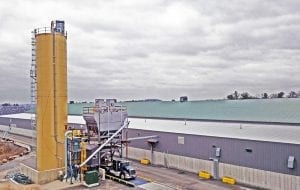 LOUISVILLE, KY (January 17, 2019) – Charah® Solutions, Inc. (NYSE: CHRA), a leading provider of environmental and maintenance services to the power generation industry, today announced that it has opened its first facility using new patented technologies for grinding granulated blast furnace slag (GBFS) to create supplementary cementitious materials (SCMs). This fully operational facility at the Port of Coeymans, a marine terminal located 10 miles south of Albany, New York, and 100 miles north of New York City on the Hudson River, is accessible by ship, truck, and rail, and is selling materials to concrete product manufacturers throughout the Northeast.
"Charah Solutions is one of the leading fly ash sales and marketing companies in the country, and we are excited to open this first facility that will supplement the cementitious materials we are already providing without the use of fly ash," said Charles Price, President and CEO of Charah Solutions. "The Port of Coeymans is an ideal location for us to serve our concrete product customers across the Northeast. The opening of this facility continues to highlight the importance of our acquisition of SCB International last year and is the first of many facilities we expect to install nationwide."
The grinding mills, which can be installed for a fraction of the cost of competing technologies and scaled up or down to meet market demands, allow Charah Solutions to serve customers in markets where the supply of fly ash or other SCMs is limited. Charah Solutions' technology is more cost-effective, regardless of the volume of SCMs needed, and is designed to be flexible, with the ability to add production capacity as a market grows. Additionally, Charah Solutions' technology can also be used for grinding natural pozzolans to create additional SCMs to replace fly ash and to expand Charah Solutions' byproduct sales offerings.
In addition to showcasing the new patented grinding technology, the new facility will manufacture slag cement that is marketed under the brand MultiCem™. The MultiCem slag cement will be distributed throughout Charah Solutions' MultiSource® materials network, which is a unique, nationwide distribution system of more than 30 sourcing locations that provide ready-mix concrete producers and other customers a continuous and reliable supply of SCMs, including quality fly ash and slag cement. MultiCem slag cement is produced by grinding GBFS, a byproduct of steel production, and can be added in the production of concrete and cement. MultiCem slag cement provides strength, durability, improved finish, and consistent performance in concrete, and can be used at higher replacement rates than other SCMs, reducing the overall carbon footprint and decreasing the need for landfills.
"We are targeting both large and small markets, where the supply of fly ash is currently constrained, to rapidly deploy our technology," said Scott Ziegler, President of Byproduct Sales at Charah Solutions. "We can be up and running within a few months and produce as little as 30,000 tons or more than 100,000 tons profitably. This compares to traditional vertical roller mills or ball mills that require significant capital investments, need large production volumes to be profitable, and can take years to obtain the necessary construction permits."
Click here to see a complete map of Charah Solutions' MultiSource materials network locations.
About Charah Solutions, Inc.
With 30 years of experience, Charah Solutions, Inc. is a leading provider of environmental and maintenance services to the power generation industry, with operations in coal-fired and nuclear power generation sites across the country. Based in Louisville, Kentucky, Charah Solutions assists utilities with all aspects of managing and recycling ash byproducts generated from the combustion of coal in the production of electricity as well as routine power plant maintenance and outage services for coal and nuclear energy providers. The company also designs and implements solutions for ash pond management and closure, landfill construction, fly ash and slag sales, and structural fill projects. Charah Solutions is the partner of choice for solving customers' most complex environmental challenges, and as an industry leader in quality, safety, and compliance, the company is committed to reducing greenhouse gas emissions for a cleaner energy future. For more information, please visit www.charah.com.
MultiSource® is a registered trademark of Charah, LLC in the United States.
Forward-Looking Statements
This press release contains forward-looking statements within the meaning of Section 27A of the Securities Act of 1933 and Section 21E of the Securities Exchange Act of 1934. All statements, other than statements of historical facts, included in this press release that address activities, events or developments that the company expects, believes or anticipates will or may occur in the future are forward-looking statements. These forward-looking statements are identified by their use of terms and phrases such as "may," "expect," "estimate," "project," "plan," "believe," "intend," "achievable," "anticipate," "will," "continue," "potential," "should," "could," and similar terms and phrases. These statements are based on certain assumptions made by the company based on management's experience and perception of historical trends, current conditions, anticipated future developments and other factors believed to be appropriate. Such statements are subject to a number of assumptions, risks, and uncertainties, many of which are beyond the control of the company, which may cause actual results to differ materially from those implied or expressed by the forward-looking statements. Any forward-looking statement speaks only as of the date on which such statement is made and the company undertakes no obligation to correct or update any forward-looking statement, whether as a result of new information, future events or otherwise, except as required by applicable law.
Investor Contact
Charles W. Price
Charah Solutions, Inc.
(502) 245-1353
Media Contact
Ed Trissel / Kate Clark / Tim Ragones
Joele Frank, Wilkinson Brimmer Katcher
(212) 355-4449 
Byproduct Sales Contact
Scott Ziegler
Charah Solutions, Inc.
(502) 245-1353