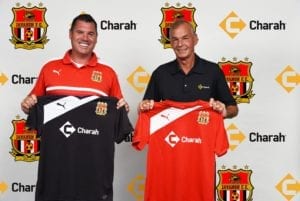 LOUISVILLE, KY (August 10, 2017) – Charah®, LLC, the largest privately-held ash management company serving the coal-fired power generation industry, today announced that has become the lead sponsor for the Javanon Futbol Club for the 2017 – 2018 season. As part of this sponsorship, Charah will support financial scholarships for boys and girls ages 7 – 18 to provide more Louisville-area youth with the opportunity to play club soccer. Javanon's 2017 – 2018 season officially begins this Saturday, August 12th.
Founded in 1989 by Ali Ahmadi, Javanon is one of the most successful soccer clubs in the region. Along with two National Championships, ten Regional Championships and over 150 State Championships, Javanon players have been selected to the US Women's National Team, MLS teams, NASL teams, USL teams, the Spanish premier division La Liga and numerous college programs. Many Javanon players have also gone on to receive college scholarships. Most recently, in late July, Javanon's U16 team competed in the 2017 U.S. National Youth Soccer National Championships in Frisco, Texas where they advanced to the semi-finals.
According to Jon Hilbert, Director of Operations for Javanon, "We are delighted to partner with Charah to provide these important sports scholarships for the youth in our community. We feel fortunate that Charah shares our goal to turn the lessons of soccer into life lessons, and supports our commitment to make each child successful on the soccer field, in the classroom and in the community."
"We are pleased to partner with Javanon for the upcoming season and support the great work they do in building individual and team skills not just for soccer but for life," said Charles Price, President and CEO. "We also recognize that club soccer can be an expensive sport, and we hope that our Charah scholarships will help remove any financial barriers for those who are passionate about the sport, allowing them to have collegiate sports or other life opportunities that may not otherwise have been available to them."
About Charah, LLC
Founded in 1987, Charah® LLC is a total solutions company providing unparalleled service and innovation. Based in Louisville, KY, Charah is the largest privately-held provider of coal combustion product (CCP) management, fly ash sales and marketing, and power plant support services for the coal-fired power generation industry. Charah assists utilities with all aspects of managing and recycling ash byproducts generated from the combustion of coal in the production of electricity. For more information, please visit www.charah.com.
About Javanon
Javanon (Farsi word that means "youth") is a 501(c)(3) youth soccer organization founded in 1989 by Ali Ahmadi. Javanon strives to attract the top youth soccer players in Kentucky and surrounding states and provide them with the best soccer learning experience possible, regardless of financial limitation, race, faith, or color. Through high level soccer instruction, Javanon seeks to instill in them confidence, teamwork, leadership, sportsmanship, and respect for others. These traits apply both on and off the field and are life-long. For more information, visit www.javanon.org or contact Director of Operations Jon Hilbert at jhilbert@javanon.com